Anna Vincitorio (Kumashov) is a multimedia artist from Melbourne, Australia.
"I am inspired by nature, geometry, symbols and patterns. Through the medium of art I explore these areas in-depth.  I have found this a great way to learn and understand better the world around me.   Ten years ago I began a very focused and conscious journey. It started with my reconnection to the spiral and as I drew and painted this symbol, I understood its very powerful significance.  It has given me the most amazing experiences and transformed my view on life.
The Flower of Life has also proven to be one of the most sacred symbols I have worked with and its connection to the ancient and modern world is very profound and a wonder to be discovered."
Patterns and symbols are found across most cultures and religions, in their stories, mythologies, architecture, art and iconography. Understanding the human interpretation and the connection that all of these earthly manifestations have to the cosmic world are of particular interest. The meaning and significance of all symbols and patterns found in the ancient civilizations are just as relevant to people in the modern world. We are attracted to the same patterns, the same symbols and studying and having a close relationship to this is what gives it the term Sacred.
Global Consciousness and Love Tribe
In 2011 myself, Garth and Marty, under the partnership known as AGM Tours, produced the Alex and Allyson Grey Australian Tour.  It was a great honour to meet Alex, Allyson and Eli in Bali during the 2010 CoSM Artist Retreat held in Ubud and to start creating the dream and vision of a future gathering in Australia.  The seed of the idea had been set and the news spread of their first visit, inspiring the many followers and the start of a visionary culture.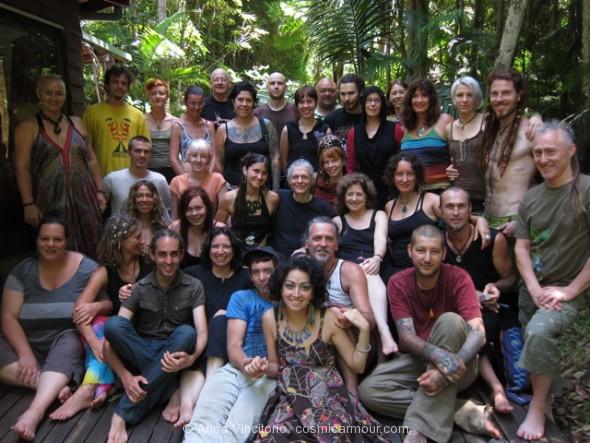 Byron Bay Artist Retreat – Alex and Allyson Grey 2011 Australian Tour
Copyright
Use of images – Artwork cannot be used without permission.